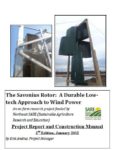 The Savonius Rotor
One farmer's prototype of a silo-mounted augmented Savonius wind turbine that can deliver substantial power output, yet is inexpensive and simple enough in its construction, installation, and electrical engineering to be easily built and maintained on a typical small farm.
With an Ear to the Ground
The pumpkin field, the prison, the classroom, and the interstate are just a few of the places where sustainability and community values converge. With an Ear to the Ground introduces us to farmers, chefs, educators, visiting Russians, and kids and the experiences thay share about food and the natural world. Print only; order from Northeast SARE.