Acknowledging Northeast SARE as a funding source is required for all program materials developed with SARE funds, including publications like bulletins, guides, fact sheets, etc.; academic journal articles, project posters, power point presentations, SARE-supported event materials including webinars and workshop handouts, websites, video credits, and other deliverables.
Acknowledgement
Please include the following funding credit language in all SARE-funded materials:
"This material is based upon work supported by the National Institute of Food and Agriculture, U.S. Department of Agriculture, through the Northeast Sustainable Agriculture Research and Education program under subaward number [insert your project number here, e.g., XNE20-####]."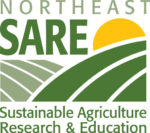 Northeast SARE Logo
Whenever possible, please use the logo in content you develop with SARE funds. Download the Northeast SARE logo in a range of formats.
Giving a Powerpoint presentation?
Consider using Northeast SARE's powerpoint presentation template (ppt format).
Questions?
If you need help with the above and have any questions about how to acknowledge Northeast SARE funding support in your publications, videos, webinars, or other media, contact Debra Heleba.