A workshop on producing, harvesting, and marketing beef. Includes case studies. You will need to use Adobe Presenter to view--otherwise these files will not open or run properly.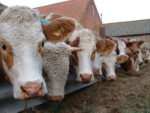 Direct sales of beef, case studies
Six beef farm profiles: Hedgeapple Farm, Highpoint Farm, Horn Farm and Restaurant, Logan Family Farms, Soergel Family Farms,and Wilson Beef Farms.