Cornell Soil Health Assessment
The Cornell soil health assessment was created to help farmers develop appropriate management solutions to build healthy soils. Focusing on soil health helps improve productivity, reduces the need for external inputs, and increases a farm's resilience to extreme weather events.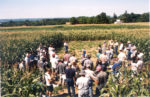 Simple P Test Yields Millions in Savings
John Maxwell, a Geneseo, N.Y., dairy farmer, used to apply more than 60 pounds of phosphorus per acre when planting his 250 acres of corn. But after participating in a SARE-funded, statewide research project aimed at helping growers fine-tune their use of starter phosphorus fertilizers, he has reduced that to about 20 pounds per acre, […]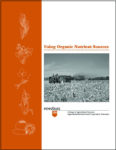 Whole-Farm Nutrient Planning for Organic Farms
A 16-page booklet that helps organic farmers understand their soil test results and use these results wisely and compliantly, within the USDA National Organic Program standards.