On-Farm Energy Production - Wind
Is wind energy a viable option for your home or business to lower reliance on the grid supplied electricity? In this module, learn how to gauge your the wind resource where you live and calculate the likely annual electricity production.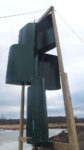 The Owner-Built Savonius Rotor
Investing in commercially available renewable-energy devices usually requires large capital investments and long payback periods. This farmer has explored a low-cost alternative.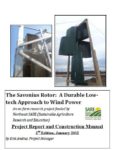 The Savonius Rotor
One farmer's prototype of a silo-mounted augmented Savonius wind turbine that can deliver substantial power output, yet is inexpensive and simple enough in its construction, installation, and electrical engineering to be easily built and maintained on a typical small farm.