The educational materials listed on this page are about Farm Business Management.
Growing and selling products profitably is critical to an agriculture business, but there are other aspects that are essential to farm business management. While it is difficult to find grants to start a farm, operating or starting a farm require a basic understanding of ag credit, including FSA loans (and other farm loans), and how to obtain farm credit for an agriculture loan. Savvy producers understand agricultural finance and agricultural accounting, and keep a close eye on farm finances. Farmers need to understand agricultural marketing and may need to know demand for a specific crop, such as with apple marketing. Starting a small farm may include finding land through FarmLink. While some new farmers may get started with a farm internship, others may useless formal farming training or more formal agriculture education. Ultimately, farmers also need to learn about farm labor, farm labor laws or farm succession planning at some point in their career. Key practices include marketing management, financial management, community-supported agriculture, risk management, agricultural finance, whole farm planning, farm succession, land access, labor/employment.
SARE's bulletin Scaling Up Your Vegetable Farm for Wholesale Markets offers alternatives for producers to market their products through unconventional channels. Building a Sustainable Business aids producers in developing a sustainable and profitable business plan for their enterprise. Building Sustainable Farms, Ranches and Communities gives producers options for agricultural loans, grants and technical expertise. Farmers looking to transition to organic will find Organic Transition: A Business Planner for Farmers, Ranchers and Food Entrepreneurs useful for business planning.
Showing 1-20 of 58 results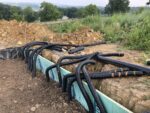 Upcoming Farmer Grant Webinar
Multiple Northeast SARE (Sustainable Agriculture Research and Education) grant recipient Tommye Lou Rafes, of T.L. Fruits and Vegetables in West Virginia, is sharing her experiences to help other farmers experiment with new ideas through the Farmer Grant program. At noon on October 4th, 2022, Rafes will join Northeast SARE Grant Coordinator Candice Huber for an informational webinar […]