How Alive is My Soil?
This guide presents soil testing methods that can be performed in the field by farmers, gardeners, or anyone who desires to understand and appreciate soil from a different perspective. While these tests aren't intended to be a replacement for sending soil to a lab, they can be considered complementary to annual or biannual lab analysis.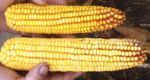 Adapt-N Training Manual
Adapt-N is an online tool that helps precisely manage nitrogen (N) inputs for grain, silage, and sweet corn production. It can provide automatic daily updates of each field's N status and recommendations, based on real-time weather influences, and can be used with any device with internet access.