Showing 21-23 of 23 results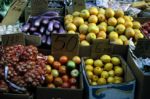 Understanding Food Safety
This document lays out permitting requirements and safe food handling practices at farmers markets.
Handbook for Small-Scale Poultry Producer-Processors
Apply for a license to process poultry using a Mobile Poultry Processing Unit (MPPU).


NOFA Handbooks
A series of eight handbooks for new farmers or established producers seeking to transition to organic or improve their current practices. Print only; order from Chelsea Green.